Water pumping is generally dependent on conventional electricity or diesel generated electricity. The deficit in electricity and high diesel costs affects requirements of community water supplies and irrigation. Solar water pumping minimizes the dependence on diesel, gas or coal based electricity. The use of diesel or propane based water pumping systems require not only expensive fuels, but also create noise and air pollution. So using solar energy for water pumping is a promising alternative to conventional electricity and diesel based pumping systems.
Solar pumping systems are environment friendly and require low maintenance with no fuel cost. Keeping in view the poor grid connectivity in rural and remote areas, PV pumping is one of the most promising applications of solar energy. Solar water pumping is gaining importance in recent years due to non availability of electricity and increase in diesel prices.


Agricultural production in our country is largely dependent on rains and is adversely affected by the non availability of water in summers. However maximum solar radiation is available in summers as such more water can be pumped to meet increased water requirements. Urban water supply systems are also dependent on electricity to pump water in towns. Solar pumping systems can also be utilized for water supplies in rural, urban, community, industry and educational institutions.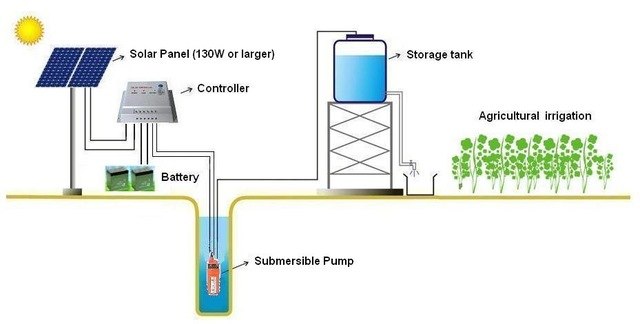 Solar water pumping system is based on photovoltaic technology that converts sunlight into electricity to pump water. A SPV water pumping system consists of a PV array, a DC/ AC surface mounted/submersible/ floating motor pump set and electronics. The PV array is mounted on a suitable structure fixed or with a provision of manual or automatic tracking. Water is pumped during day time. The flow rate of pumped water is dependent on incident solar radiation and size of PV array. A properly designed PV system results in significant long term cost savings as compared to conventional pumping systems. In addition, tanks can be used for water storage for use during day time, night or under cloudy conditions. Generally battery is not used for storage of PV electricity, however, for specific reliable requirements it can be used.
Components:
Solar Photovoltaic panels
Solar Pump
Pump controller
Mounting structure
Pipes & cables
Earthing kit
Features:
Mobile switch On/ off
Remote monitoring
Separate LCD display
Efficient solar pumping system
In built surge protection
5 years warranty against manufacturing defect
Grid hybrid operation also possible
Applications of Solar Water Pump:
Agriculture/ Irrigation
Drip irrigation
Livestock watering
Remote drinking water
We are sure that you will give us an opportunity to offer our products and services, which can be incorporated into your capital outlay by nominal additional expenditure.
Lets Take First Step To Solar Energy
Inquiry